Ultimate packing list
Travel essentials for your adventure
Whether it's packing too little, packing too much, forgetting the swimsuit or even the passport, most of us are guilty of a few baggage bloopers. If you're a seasoned traveller, chances are you'll have your packing down to a fine art (although, even the pros can make mistakes).
If it's your first time travelling or if you're packing for the whole family, then a travel packing list like this can go a long way to help.
We've divided this ultimate packing list into sections, so you can organise your luggage with confidence, prepare your travel documents and enjoy a relaxing and stress-free holiday.
Travel packing tips
Well-packed bags don't happen straight away. Before throwing anything and everything into the old suitcase in the corner, consider the following steps.
Choose the right luggage
When it comes to travelling in comfort and security, not any old bag will do. Here are six quick tips for preparing the perfect bag for your adventure:
For your checked luggage, find a sturdy suitcase with durable zips and wheels. Flashy designer suitcases may look great but can attract unwanted attention from thieves.
For your cabin luggage, find a lightweight bag with a hard surface to protect it in the overhead compartment. Remember that there are strict laws around what you can pack in cabin luggage.
If you'll be using this as your day bag while out and about, consider finding a theft-proof bag with slash-proof material, hidden compartments and locking zips.
If you're an adventure traveller, an all-in-one travel backpack can be a versatile option and save you from grappling with a wheeled bag in more rugged terrain. Look for breathable, flexible, weather-resistant and durable options. Remember, you get what you pay for.
As many well-seasoned travellers know, using packing cubes to compartmentalise your luggage is a great way to save space and keep things tidy.
Quality travel insurance is the best way to truly protect your belongings. With our International Comprehensive policy, you can pack with confidence knowing your valuables are protected against loss, damage and theft.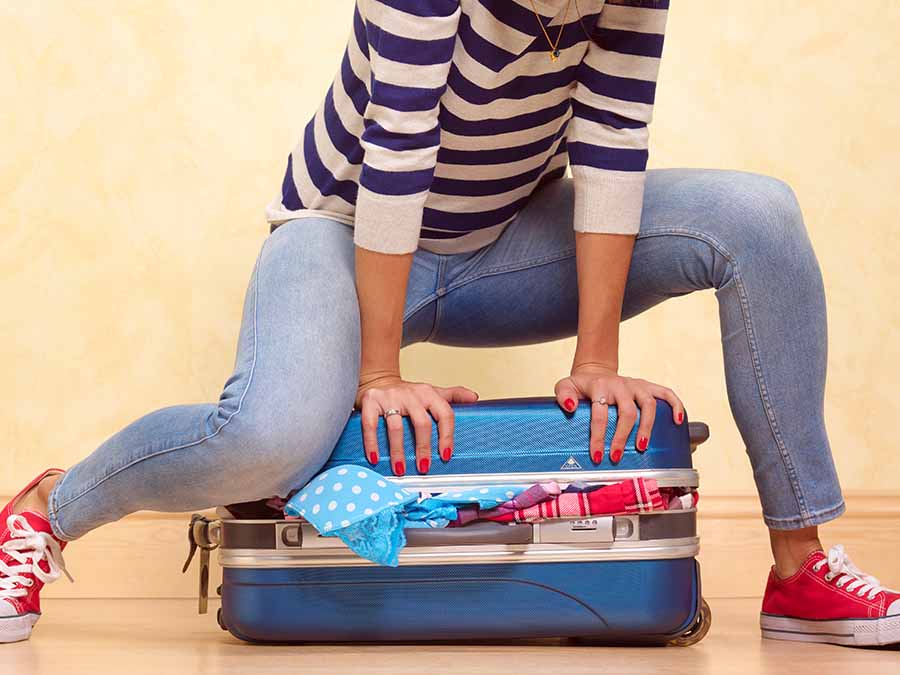 Checked vs carry-on luggage
It's important to know the rules surrounding checked and cabin luggage before you start packing. There are strict laws on what you can pack in cabin luggage, which can even differ from airline to airline. As a general guide, the following items can't be taken in your carry-on bags:
Sharp objects (such as razor blades, scissors, and knives)
Objects potentially used as a weapon (such as hammers, cricket bats and golf clubs)
Flammable goods (such as aerosol containers and lighters)
Liquids exceeding a certain volume
Some food and drink.
Always check with your airline for an exhaustive list of what can and can't be taken on board, and if in doubt, leave it out.
Pack your valuables in carry-on luggage
While it's important to adhere to the airline's rules on checked and carry-on bags, it's also important to remember that your travel insurance also determines where you pack your valuables.

Many travel insurance policies won't cover your valuables if they're damaged or lost while in checked luggage. For this reason, you should pack high-value items like electronics and jewellery in your carry-on bags.
Overseas travel packing checklist
Now that you've got the right luggage, the right technique and know the difference between checked and carry-on bags, it's time to start packing. We've divided this travel packing list into sections and included a few insider tips along the way.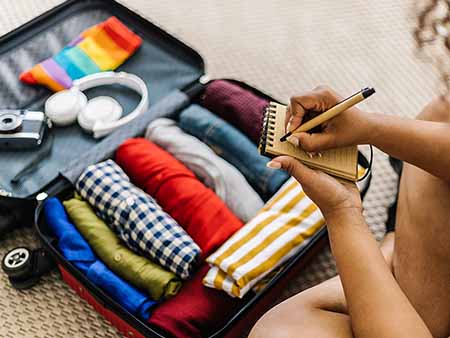 Clothes to pack
Clothes suitable for climate and culture
Before emptying the wardrobe into your suitcase, ask yourself if the clothes are suitable for your destination. Three pairs of jeans may be overkill for your Fijian adventure and revealing swimwear may not be appropriate in conservative countries.

Research your destination's climate, cultural norms and customs before you start packing.
Clothes and accessories for day-to-day
T-shirts
Casual shirts
Vest tops
Jackets
Jumpers
Dresses
Skirts
Jeans
Shorts
Pants
Belt
Comfortable everyday shoes
Underwear
Sleepwear
Socks
Hat
Prescription glasses and case.
Clothes and accessories for the beach
Sunscreen/zinc for the face and body
Sun hat
Swimwear/cover-up
Sunglasses and case
Wet bag
Beach bag
Thongs or sandals
Beach towel
Wetsuit/rash top.
Tip: Some sunscreens contain ingredients that are damaging to coral reefs. In fact, Hawaii has banned sunscreens containing oxybenzone and octinoxate; two damaging chemicals commonly found in sunscreen. If in doubt, buy your sunscreen at your destination rather than bringing your own.
Clothes and accessories for cool weather
Rain jacket/coat
Travel umbrella
Windbreaker
Hat
Scarf
Gloves
Snow/rain boots
Winter sports gear.
Clothes and accessories for adventure travel
Sturdy enclosed shoes
Loose-fitting long-sleeved t-shirt
Quick-drying shirt and shorts
Waterproof socks
Mosquito net
Thermal gear for cold climates.
Clothes and accessories for eating out
Dress pants
Nice shoes
Button-up shirt
Formal dress
Coat
Purse/wallet
Handbag
Jewellery (if valuable, wear it on the plane).
Toiletries to pack
It's easy to get carried away with the toiletries compartment of your luggage and pack far more than you really need. Half-empty bottles, tubes and irregular-sized packaging can quickly take up a lot of unnecessary space, which is why the pros prefer to empty smaller portions of products like shampoo into labelled travel-size bottles.

You may even get away with leaving the basics like shampoo, conditioner and toothpaste at home if you're checking into a well-stocked hotel!
Dental products (toothbrush, toothpaste, mouthwash, floss etc.)
Deodorant
Make-up
Aftershave/perfume
Shampoo/conditioner
Body wash/soap
Cleanser, toner, moisturiser
Cotton wool
Lip balm (handy for the plane)
Feminine hygiene products
Contact lenses and solution
Shaving gear
Hair styling tools and products
Emergency toilet roll
Nail clippers, tweezers, scissors
Laundry kit.
Tip: Items like clippers, tweezers and scissors are best packed in your checked luggage. While some airlines allow you to carry scissors up to a certain size in your carry-on bags, it's always safest not to run the risk.
Health & medication to pack
Staying fit and healthy overseas should be a top priority for all travellers. Whether you have important prescription medications or simply want an effective first-aid kit for your adventure, health and medication items form an important part of your travel packing list.
Prescription medication
First aid kit
Cold and flu medicine
Pain relief medicine
Diarrhea medicine
Motion sickness tablets
Sunburn gel (such as aloe vera)
Vitamins
Insect repellent
Eye drops
Hand sanitiser.
Tip: There are strict rules on travelling with prescription medication, like carrying it in its original packaging accompanied by a doctor's certificate. Check with your airline before packing your bags. Always check smartraveller.gov.au and follow their vaccination recommendations.
Electronics to pack
From booking hotels on the go to travelling with thousands of books in a single small device, technology has made travelling easier than ever before. Don't forget the following items to enrich your trip:
Mobile device and charger
Laptop/tablet and chargers
Camera, memory card and charger
Protective cases
Local power adaptor for your destination
Noise cancelling headphones
eReader and charger
GoPro
Portable phone charger
Travel apps downloaded to your device (such as language guides).
Tip: Pack your electronics in your carry-on bag, as we cannot cover these items if they are damaged or lost in your checked luggage.
Travel documents
Imagine landing at a foreign airport and noticing that every other passenger on your flight is holding a printed visa that you didn't know you needed. Getting your documents in order is a critical step of your travel planning, so don't forget these essentials:
Passport and photocopies
Local and international driver's license
Cash and credit cards
Travel insurance documents
Visas (if applicable - always check entry requirements on Smartraveller well before your departure date)
Booking confirmations and itineraries (accommodation, tours, rentals, transport etc.)
Emergency contacts list
Embassy contacts list
COVID-19 documentation, such as negative test results and vaccination certificate if required.
Tip: Many countries require that your passport is valid for at least six months after your intended return date. Ensure you research this 'six month rule' on smartraveller.gov.au to avoid unwanted surprises at immigration.
Keeping photocopies of your travel documents lets you protect the real thing and acts as a backup if something is lost. It's also a good idea to upload these photocopies to a secure online storage service, like Google Drive.
Safety and security
What to pack for COVID safety
Since the COVID-19 pandemic, travellers have added a few more items to their essential packing list. Stay healthy and follow local laws with simple items like:
Face masks
Hand sanitiser
Anti-bacterial wipes
Rapid antigen tests
Negative test results if required
International vaccination certificate if required.
Tip: It goes without saying that COVID-19 restrictions vary widely around the world and are frequently changing. Refer to Smartraveller for up-to-date guidance for your destination.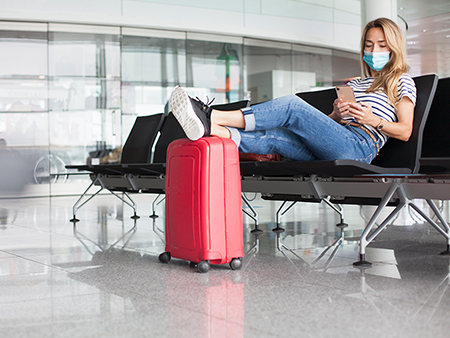 Other things to do before you travel
As romantic as it seems, travelling is rarely just "get up and go." The following checklist items are essential before boarding the plane:
Inform your bank of your travel plans
Register your travel with smartraveller.gov.au
Share your travel plans with friends and family
Pre-pay any bills that will arrive while travelling, where possible
Secure your house and unplug appliances
Have a neighbour or relative collect your mail (an overflowing letterbox is an invitation for thieves)
Stop any regular deliveries while you're away (such as newspapers or food boxes)
Check-in for your flight online
Plan how you'll get to the airport (check what terminal you need to go to).
Tip: Events such as volcanic eruptions and snow storms can be unpredictable. That's why it's important to visit smartraveller.gov.au just before your trip. Search for your destination to see the latest travel advice and safety tips. A 'do not travel' or 'reconsider your need to travel' advice level may mean you have to delay or cancel your travel plans.
Finding the best travel insurance
Comprehensive travel insurance is one of the most important things to pack for any holiday. Whether you're embarking on a round-the-world backpacking adventure, or taking the kids overseas for the school holidays, it's important that you're protected if the unexpected happens.
The content of this article is general and provided for information purposes only. Southern Cross Travel Insurance (SCTI) doesn't guarantee or warrant the accuracy, completeness or currency of any article.
This article may contain hyperlinks to other websites owned or operated by third parties, or references to third party products or services. SCTI isn't responsible for, and makes no recommendation about, the content or accuracy of any third party website, or for the suitability or performance of any product or service. The inclusion of a link in this article doesn't imply that SCTI endorses the website or third party product/service.