Fiji tourist attractions and culture
Learn the fascinating history, vibrant culture and rich traditions that make Fiji more than just a beachside paradise.
A tropical paradise rich in culture
Fiji is a postcard-perfect tropical escape for travellers who prefer hammocks over high-rise hotels. But despite appearances, the country isn't just a holiday haven for relaxed sun-seekers.
Beneath its tranquil exterior is a diverse society born from a captivating past. The once-called 'Cannibal Isles' is now an economic powerhouse in the Pacific, while the Fijian lifestyle is famously laid-back, and not all of its residents run on 'island time'.
In this article, we explore the sights and sounds of modern-day Fiji, outline the Fijian peoples' strong connections to tradition, family and community, unpack its fascinating history, and dive into the tourist attractions and culture that Fiji has to offer for international visitors. Bula!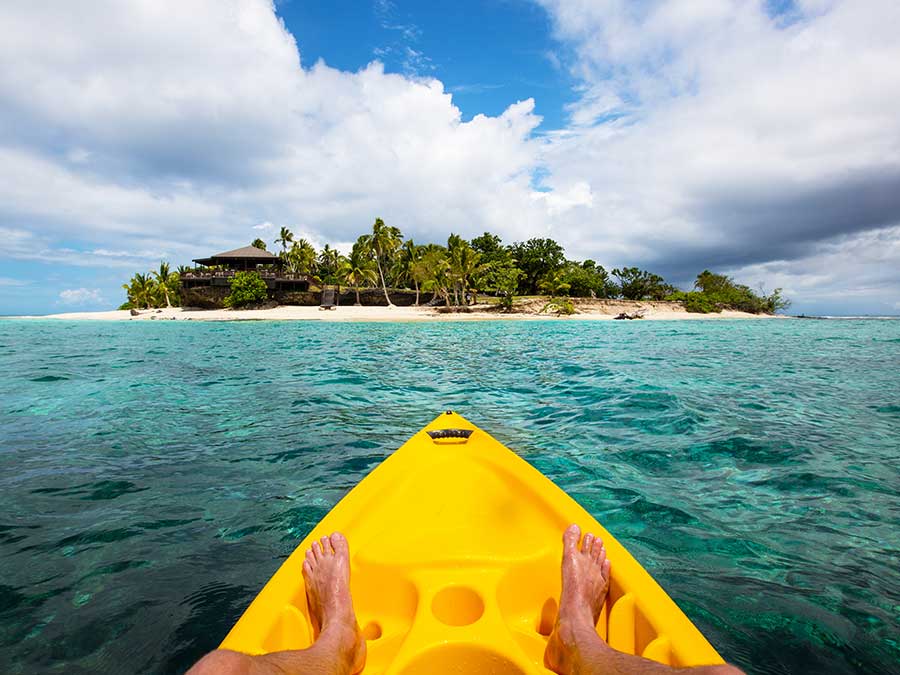 Fiji at a glance: population, cities and geography
Fiji is a cluster of over 330 islands located in the South Pacific Ocean. Only 110 are permanently inhabited, but all of them are staggeringly beautiful. The Fijian archipelago was formed by volcanic activity, which has resulted in the dramatic landscapes that enthral travellers today.
November to April is Fiji's warm season, and May to October is considered the cool season (although temperatures still average a comfortable 23-25 degrees celsius). In the warm season, heavy rainfall can be persistent and damaging. Cyclones occur about once per year and can often be devastating, like Cyclone Winston in 2016, which caused approximately $1 billion USD in damage and killed 44 people.
Viti Levu and Vanua Levu are the largest and most populous islands in Fiji. Suva, the country's capital, is located on Viti Levu and is home to nearly 75% of the Fijian population. Suva is more of a bustling city than a tropical beachside vacation, however it's a must-see for travellers who are interested in exploring modern-day Fiji. Among the lively markets, shopping districts and impressive British colonial architecture, Suva's prime attractions include:
If you decide to visit Suva, note that petty theft is common in the city, with unsuspecting travellers being an easy target. Ensure you keep your valuables under close guard, especially in crowded areas like markets, shopping malls and bus shelters.
Places to visit in Fiji
Suva is an exciting clash of old meets new, however for most international visitors, it's only a stopover before the tropical relaxation truly begins. The country's true tourism heavyweights boast white-sand serenity that rivals any other tropical destination in the world - a fact that makes up a large part of Fiji's cultural identity. Let's take a look at a few of Fiji's premier tourist attractions.
Mamanuca Islands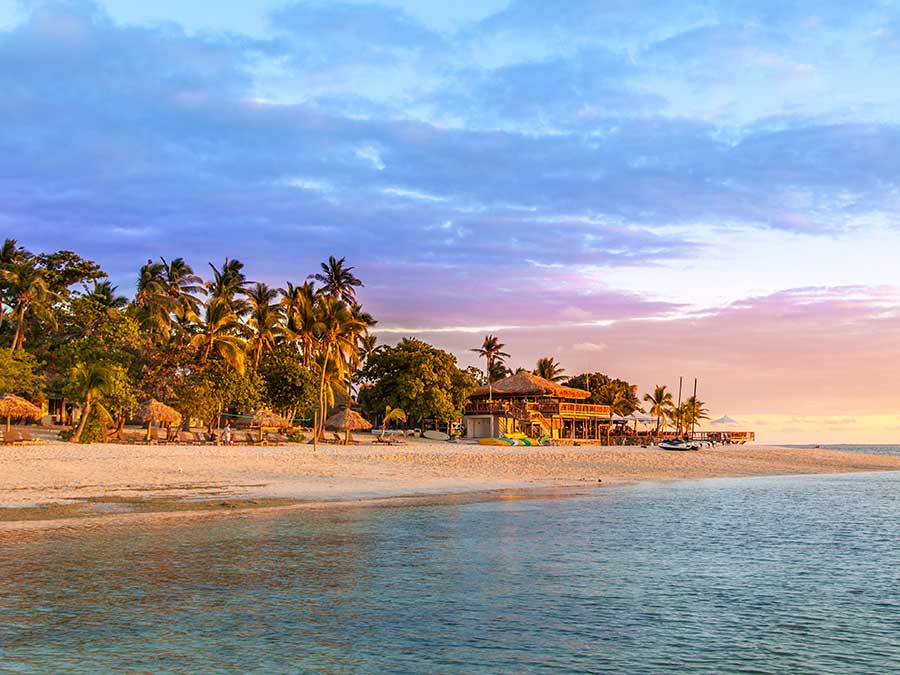 The Mamanucas are some of the most popular islands in Fiji. There are 20 islands in the group, which can be reached by plane from Nadi or catamaran from Port Denarau. Visitors can enjoy laid-back resorts and heart-thumping adrenaline activities in equal measure, and find accommodation options that cater to most budgets. Whether you're honeymooning or travelling with the family, if it's resort living you desire, the Mamanuca Islands will deliver.
There are also excellent surfing areas that can be accessed by boat from many of the islands, however ensure you stick to your skill level as the challenging waves break over shallow coral reefs. Likewise, ensure you're well prepared for the harsh sun and sharp coral when snorkelling and scuba diving.
The reefs in the area are healthy and sharp, making them unforgiving towards human skin. Untreated cuts can easily become infected, so a basic first aid kit is a staple for anyone visiting the Mamanuca Islands. However, if you are cut or grazed on the reef, it's always best to seek medical attention from the resort's medical centre to be sure you avoid infection.
Denarau Island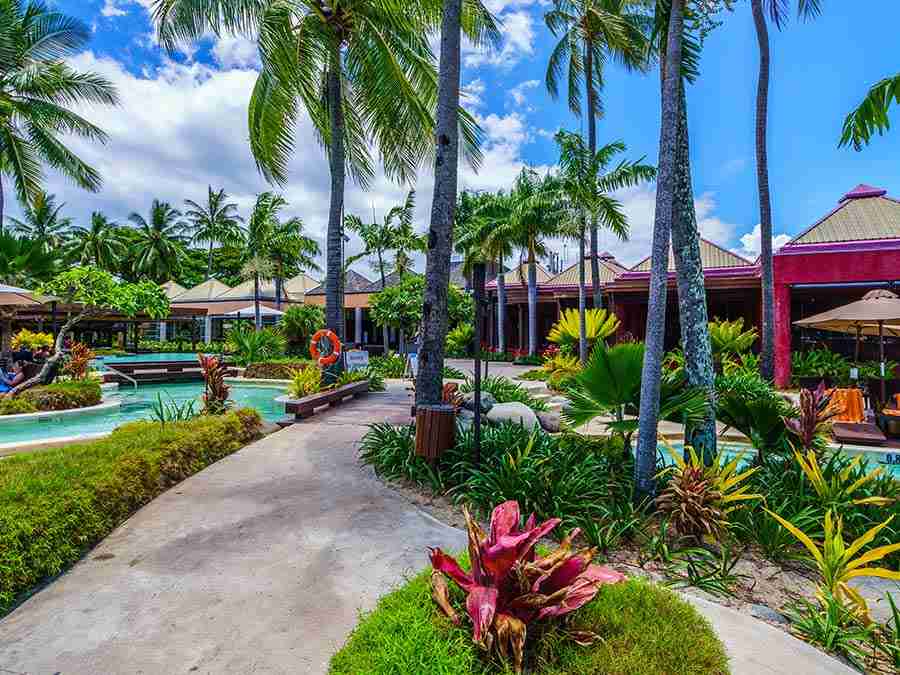 Denarau Island is the perfect example of resort culture in Fiji. The largest integrated resort in the South Pacific is all about relaxation in excess, with upscale accommodation, private beaches, countless swimming pools, fine dining restaurants, a marina and an 18-hole championship golf course to top it off.
Denarau Island was singled out as a resort development in the 1960s, and ongoing expansion has transformed it into the luxury micro-city that celebrities, honeymooners and tropical holidaymakers now enjoy. Denarau also has plenty to offer the kids, such as the iconic Big Bula Waterpark.
Yasawa Islands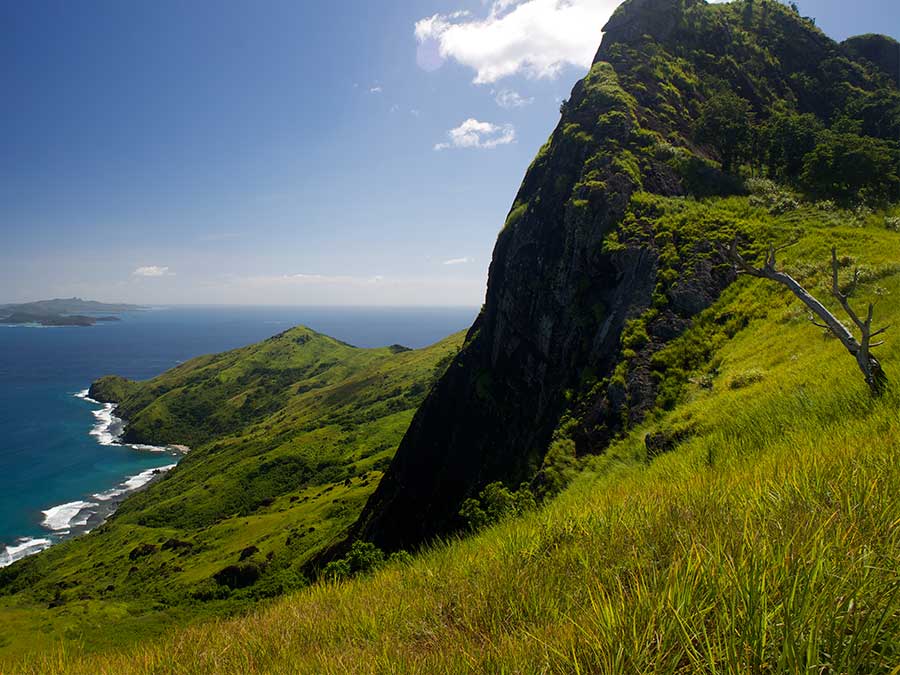 The historic Yasawa Islands are a further-flung answer to the luxury resorts of the Mamanuca Islands and Denarau. As it's an outer island chain, getting to the Yasawas is more difficult than travelling to other areas of Fiji, which is enough to deter some visitors. In fact, land-based tourism in the area was officially restricted by the Fijian government until 1987.
The Yasawa Islands are a cultural curiosity for a few reasons. The USA used the islands as a communications outpost during WWII, and the islands were also the film set of The Blue Lagoon movie, released in 1980.
Today, the high-end Yasawa and Turtle Island resorts are the popular choices for luxury accommodation in the area. They both offer a range of activities, including bike riding, hiking, sea kayaking, sailing, snorkelling and windsurfing, however travellers should take extra care because of the area's isolation.
Emergency medical care in the Yasawa Islands is limited, and cases of serious injury may require emergency transport to Nadi or your home country. One of our highest claims came from an unlucky traveller who fractured his hip while holidaying on a tropical island, needing immediate repatriation in an air ambulance.
Nadi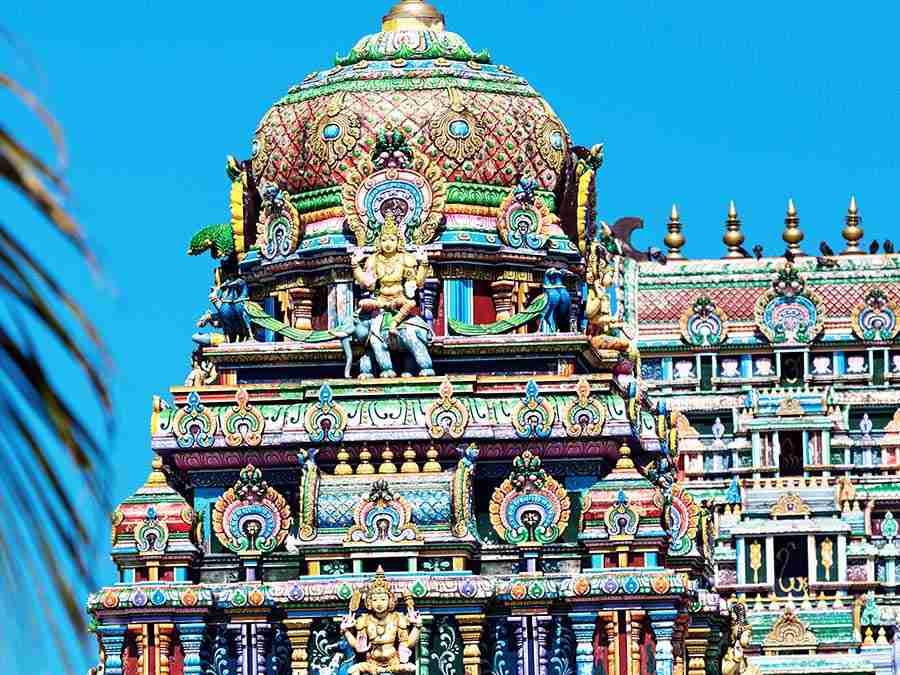 Like Suva, Nadi is often regarded as just a pitstop on the way to the resort. However, the city offers a unique look into Fiji's diverse modern culture.
Nadi is home to much of Fiji's Indian population, which is colourfully expressed by the city's many temples and shrines, restaurants and stores. In fact, Nadi boasts the largest Hindu temple in the southern hemisphere - the Sri Siva Subramaniya.
Travellers who can't afford to stay in the luxury bures (single-room houses) of Denarau and the Mamanucas will find cheaper alternatives in Nadi. Travellers will also find a different pace than in the resorts, with bustling shopping districts, restaurants and bars.
However, also like Suva, petty criminals and scammers have been known to target tourists in Nadi. Nadi International Airport is the principal landing point for international arrivals, and as such some taxi drivers will attempt to exploit tired or unassuming tourists. Travellers who catch taxis in Nadi should remember:
Ensure the meter is running to avoid improvised fares.
Don't leave your bags on the sidewalk for the driver to load while you board the taxi.
Keep valuables in the car with you, not in the boot.
A simple way to deter potentially troublesome taxi drivers is to load a local map on your phone screen. This shows the taxi driver that you won't be tricked by unnecessarily long routes.
5 Fijian traditions and ceremonies not to miss
Fijians today maintain a strong connection to tradition and culture, which is clear to see through their music, arts, food and festivals. While many visitors to the country only have sun-soaked relaxation on their minds, exploring traditional Fijian culture and ceremonies will enrich your experience even more. Here are five ceremonies not to miss in Fiji.
1. The meke dance
You don't have to travel far to enjoy traditional Fijian culture, with many resorts offering a schedule of local performances on site, such as the meke dance. In the meke, men and women tell stories through song and dance, play traditional instruments like the lali drum, and adorn themselves in costumes.
There are many different versions of the meke, including war dances, sitting dances, spear dances and the women's fan dance.
2. Lovo feast
Fiji's answer to the barbecue, traditional lovo feasts are cooked in underground ovens dug into the earth, which are lined with coconut husks and covered with stones. Historically, the lovo meals of fish, meats and vegetables wrapped in banana leaves were often prepared in celebration of events like weddings or festivals in the village.
Like the meke dance, many resorts offer regular lovo feasts for their guests to enjoy.
3. Kava ceremony
The kava ceremony, also known as yaqona, is one of Fiji's most well-known ceremonial activities. Kava is a traditional drink made from the crushed root of the yaqona plant, which is then strained with water. In a kava ceremony, participants share sips of drink from a communal bowl known as a tanoa, signifying a friendly union of people and mutual respect.
Kava is famous for having a mild sedative quality which leaves participants feeling calm and relaxed, with a slight numbing of the lips, tongue and mouth. There have been many cases of travellers falling ill after overdoing their kava consumption, including the former Australian Deputy Prime Minister who was hospitalised in December 2022 while visiting other Pacific Islands.
So if you're enjoying this tradition in Fiji, follow the advice of local guides and enjoy it in moderation.
4. Fijian village visit
Visiting a local village is one of the best ways to appreciate daily life in Fiji beyond the hotel grounds. Resorts like Plantation Island Retreat in the Mamanuca Islands organise day trips to local villages, where many of the resort staff live.
Remember to brush up on local etiquette prior to your visit to avoid unknowingly offending the residents. During a village visit, you should:
Dress conservatively
Remove your hat
Take off your shoes before entering houses
Receive gifts graciously.
5) Fire walking
Imagine a series of costumed men walking barefoot across a pit of white-hot coals, emerging seemingly unscathed by the seemingly impossible feat. Fiji's fire walking ceremonies are a true must-see for all the family, and are also often featured in resorts around the country.
Fire walking in Fiji has origins on Beqa island and is steeped in legend. Modern-day fire walkers supposedly share a bloodline with the first Fijian fire walker, Chief Tui Naiviqalita, who was granted the gift of controlling fire by a spirit god.
Fijian culture today
As any visitor to Fiji will attest, the country is often said to have the friendliest locals in the world, who never fail to offer an enthusiastic greeting of "bula!" to travellers.
Sport is central to life in Fiji, with Rugby Sevens being the country's national code. Like the New Zealand All Blacks rugby team has the Haka to begin each match, the Fijian side has the Bole - their own war cry.
There have been political upheavals in the country in recent decades, including military coups and government corruption. Travellers to Fiji are advised to avoid all political protests for their own safety.
Although Fiji is evolving into a modern island nation, traditional values are still strictly observed. Travellers should remember to:
If visiting a village, wear modest clothing and remove your hat.
Take off their shoes before entering a home.
Do not touch people's heads, including children.
Receive gifts graciously and answer personal questions politely.
Fiji's stunning scenery may be its prime attraction, but it's the people who call the country home that give visitors a travel experience they'll never forget.
Fijian customs
Fiji is widely regarded as a relaxed, friendly and welcoming destination for overseas travellers, however it's a great idea to familiarise yourself with Fijian customs to gain a deeper appreciation for local life and avoid accidental faux pas.
Here are a few tips about customs in Fiji to remember:
Fiji is a deeply religious country, and dress is generally conservative.
Family and community are vital to Fijian daily life.
'Island time' or 'Fiji time' refers to the relaxed, unhurried approach locals take to their schedules.
Be mindful of the cultural, political and social divide between 'native Fijians' and its population of Indian heritage.
Traditional gender roles persist in Fiji.
Etiquette is vital when enjoying traditional ceremonies or village visits. Ask for the advice of a local guide.
Language in Fiji
After landing in Fiji, it won't be long before you receive a friendly 'Bula!' - the famously enthusiastic local greeting that can be used as hello, good morning, good afternoon, or as a toast when drinking or celebrating.
English is one of three official languages in Fiji, alongside Bau Fijian and Hindustani. While most of the population speaks English, it can be great to learn a few local Fijian phrases to show respect to local residents and further immerse yourself in Fijian culture.
Some common Fijian phrases to learn include:
Bula: hello, good morning, good afternoon
Vinaka: thank you
Iko kai ve?: where are you from?
Sega na leqa: no problem
Vacava tiko: how are you?
La Bula: nice to meet you.
Religion in Fiji
Modern-day Fiji is a religious country. Indigenous Fijians, which make up the largest population group in the country, are widely Christian, while Indo-Fijians make up the Hindu and Muslim monitories. This multicultural community results in a captivating mix of Christian churches, Islamic mosques, and Hindu and Sikh temples.
With 65% of Fiji's population identifying as Christian, you'll see churches in the country's cities, towns and villages alike, with Sunday worship being a central part of traditional Fijian life.
Temples like the famous Sri Siva Subramaniya Swami Temple in Nadi offer a colourful glimpse into religious life for Fiji's Hindu minority, who have Indian heritage. If you're planning to visit any of Fiji's religious sites, research etiquette tips in advance to avoid causing offence.



The content of this article is general and provided for information purposes only. Southern Cross Travel Insurance (SCTI) doesn't guarantee or warrant the accuracy, completeness or currency of the articles.
This article may contain hyperlinks to other websites owned or operated by third parties, or references to third party products or services. SCTI isn't responsible for, and makes no recommendation about, the content or accuracy of any third party website, or for the suitability or performance of any product or service. The inclusion of a link in this article doesn't imply that SCTI endorses the website or third party product/service.