Bali's best beaches
Whether you're a sun-seeking solo traveller or a young family on school holidays, there's something for almost everyone in Bali. The island has so much to offer to all kinds of travellers, but it's Bali's natural beauty that continues to draw so many Aussies to its shores.
If you're looking for wonderful waterfronts, stunning snorkelling and exceptional surf, you're in luck. Bali boasts some of the best beaches in the world and there are plenty to choose from. Let's dive into eight of our favourite Balinese beaches, what they offer, and some insider tips to keep you safe.
1. Padang Padang Beach
Best for: Family-friendly swimming and daring surfers.
Visit Padang Padang when the swell is small and you'd be hard-pressed to imagine a thundering wave rifling along the reef. Yet when conditions align, the famous beach on Bali's Bukit Peninsula transforms into one of Indonesia's premier surfing destinations.
But Padang Padang has far more to offer than world-class waves. Known locally as Labuan Sait Beach, the often-placid Padang Padang can be reached by winding your way down a narrow stone stairway, beneath ancient cliffs and monkeys swaying from the treetops. Once you reach the picturesque bay at the bottom, you'll be awe-struck by the luminous blue water that is popular for swimming, especially at low tide.
Insider tip: There is a small entry fee to Padang Padang beach, which grants you admission for the entire day. Remember to carry a few small bank notes, preferably under 20,000 Indonesian rupiahs, because the beach attendants often can't provide enough change for larger denominations.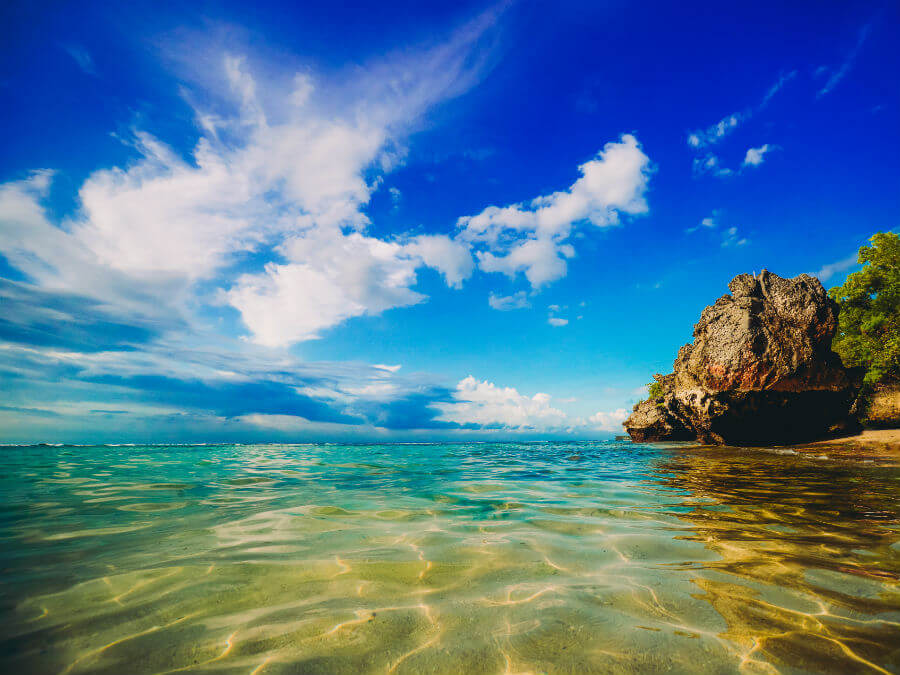 2. Uluwatu
Best for: Horizon vistas and wave watching.
Like Padang Padang, Uluwatu holds a legendary status in surfing folklore. But also like Padang Padang, it's not only the board riders who flock to enjoy its incredible ocean vistas and photogenic beach.
Reaching the sand at Uluwatu involves a few hundred stairs, which is why many visitors prefer to watch the waves from one of the many clifftop restaurants.
Insider tip: The beach itself at Uluwatu is actually quite small, especially at high tide. However, time your visit when the tide is low and the swell is small, and you'll enjoy one of the most Instagram-worthy patches of sand that Bali has to offer. If the swell is large, stick to the safety of a clifftop restaurant chair!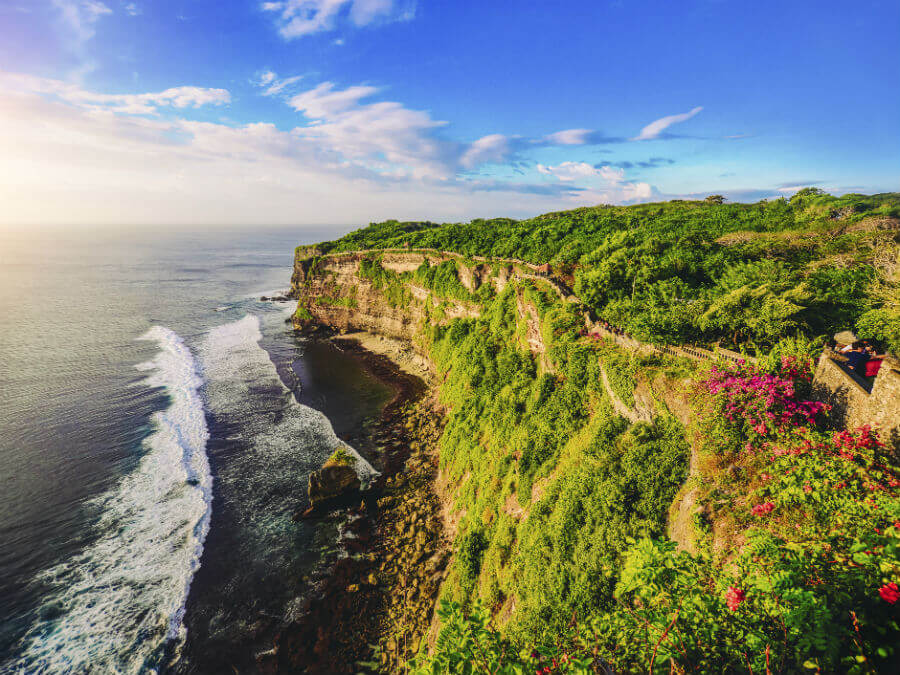 3. Jimbaran Beach
Best for: Sunset swims and beach-front luxury.
Jimbaran is just one beach south of the famous Kuta Beach, yet has a distinctly more relaxed and family-friendly atmosphere. The long stretch of beach is popular for swimming, watching the sunset and seafood dinners on the sand.
Insider tip: Jimbaran is renowned as a dining hub that features some of the best restaurants in Bali. Just remember, even eating at the best restaurants doesn't guarantee you'll avoid a bout of Bali Belly. Stick to bottled water where possible, avoid raw foods and use your best judgement in your choice of venue. If you can't see the kitchen or it looks unclean, err on the side of caution and find another.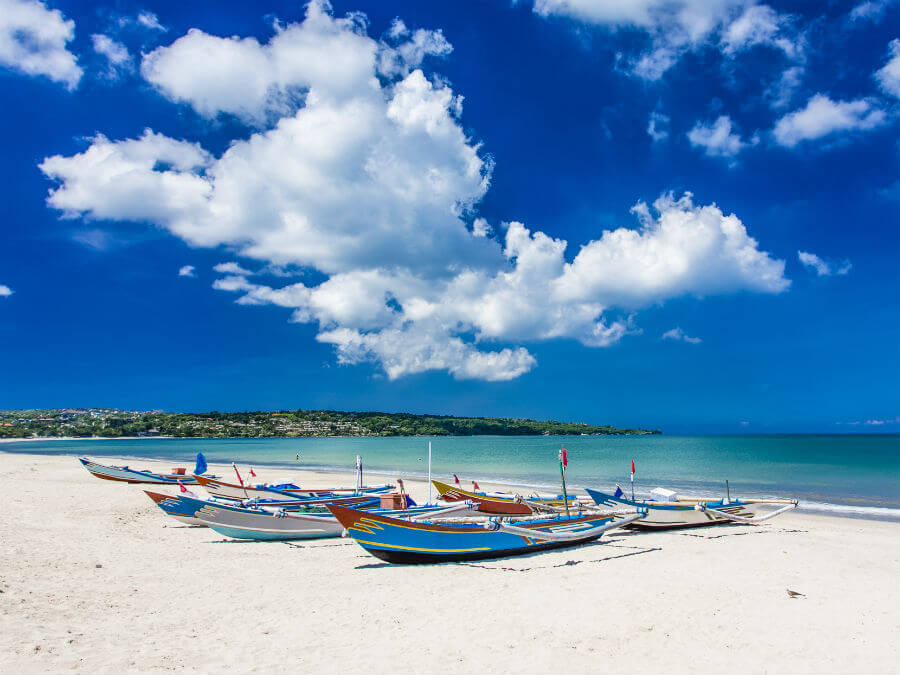 4. Keramas Beach
Best for: A resort stay a stone's throw from the surf.
Yet another surfing Mecca, the black sands of Keramas attract the world's best surfers for annual competitions. Keramas is noticeably more rural than the 'city' beaches of Kuta and Jimbaran, with a fraction of the amenities but packed with charm.
The famous Komune Resort sits right on the shore in front of the famous Keramas surf break and is a family-friendly option with a large on-site kids area (complete with skateboard ramp, trampolines, playground equipment, chicken coop and dedicated supervisors).
Insider tip: If you're after a white-sand beach for sunbathing and swimming, Keramas may not be the best choice. The rocky reef and powerful surf make it unsuitable for swimming, and the black volcanic sand can be too hot to sit on. However, if you're content with lazing by the beach-front pool, Keramas won't disappoint.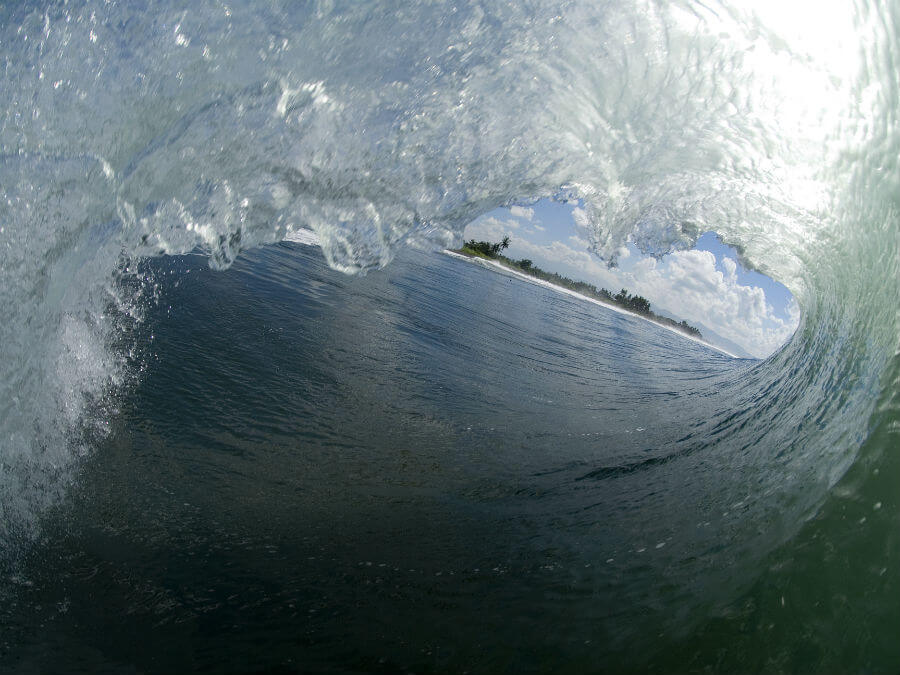 5. Canggu
Best for: Quirky cafes and nearby shopping districts.
Canggu has developed a reputation as Bali's beachfront bohemian village, with a relaxed atmosphere that contrasts to the nearby Seminyak shopping district and nightlife epicentre of Kuta. If you're into wellness retreats, sunrise yoga and a sleepy small-town feel, then Canggu could be just what you're looking for.
Insider tip: Some travellers choose to explore nearby beaches by hiring a moped. They can be a convenient way to get around, but accidents are common dangers in Bali. Instead, you might like to consider the safer option of a registered Blue Bird taxi - just ensure the driver starts the meter running when you depart!
If you do choose to ride a moped in Bali, it's a good idea to protect yourself with travel insurance that includes adequate cover.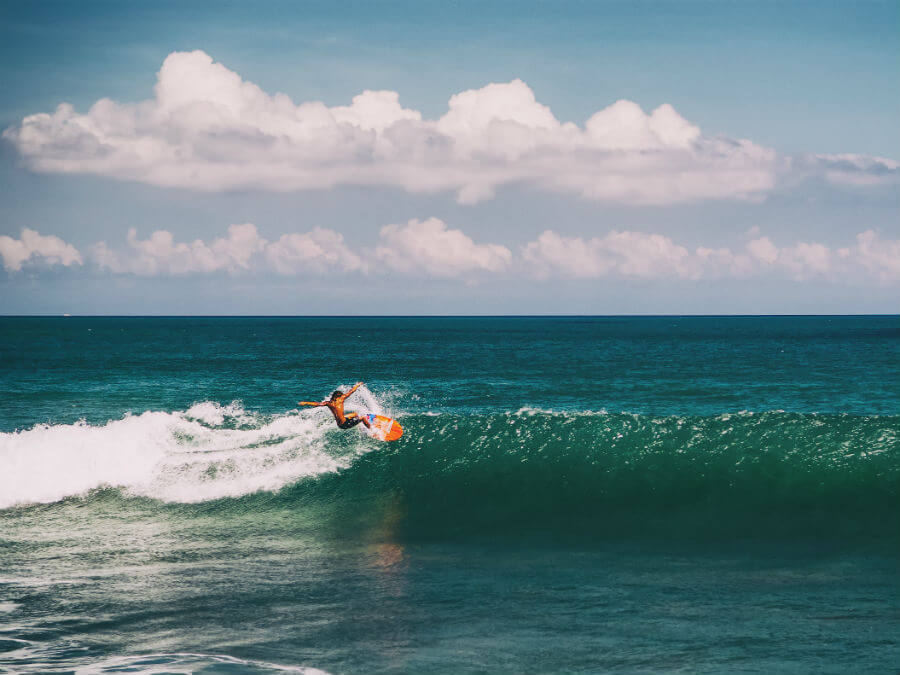 6. Dream Beach
Best for: A secluded paradise on a nearby island.
Dream Beach on the nearby island of Nusa Lembongan is about an hour speedboat ride from Sanur in Bali. Lembongan is often referred to as what Bali would have been like 15 years ago; where everything runs at a slower pace and the crowds of tourists aren't as dense.
Dream Beach is one of the most photogenic strips of sand in the area, with a small white-sand beach, grassy headlands and striking aquamarine water.
Insider tip: The shore break at Dream Beach can be deceptively powerful, especially during large swells. If you're not confident in your swimming ability, stick to the pool that overlooks the beach.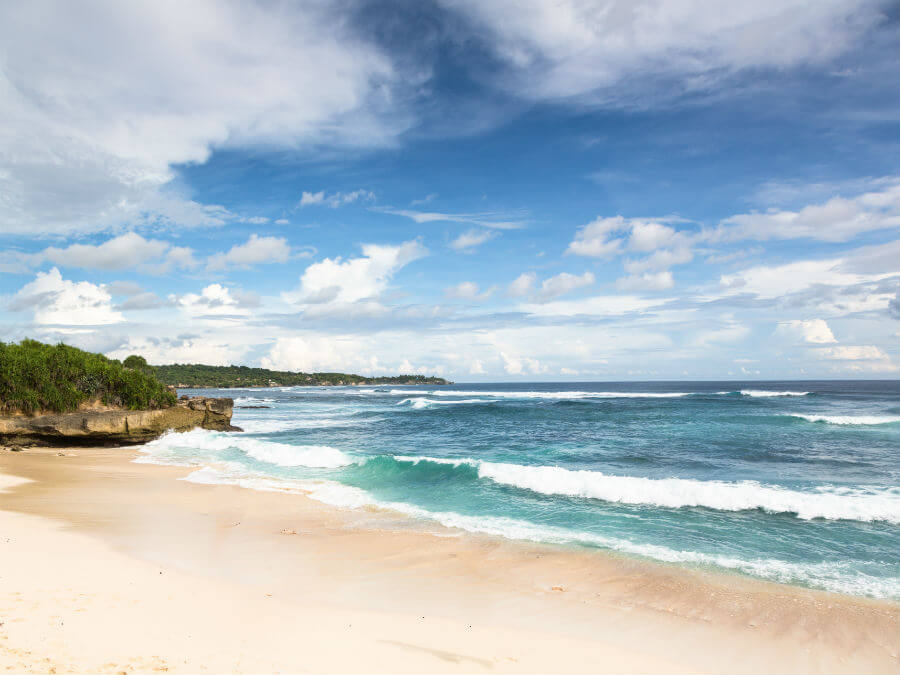 7. Mahana Point
Best for: Curious adventurers with time to spare.
A short road trip from Nusa Lembongan and even more remote, Mahana Point on the island of Nusa Ceningan is a hidden gem with a difference. The beach is quickly gaining popularity because of its dangerous cliff jump, which juts from the deck of a bar on the headland.
Due to its remote location, powerful surf and large rocks lurking just beneath the surface, it's definitely safest to avoid the cliff jump and stick to the sand.
Insider tip: No seriously, don't jump. Unfortunately, an Australian man recently passed away after jumping from the headland at Mahana Point, due to a heart attack brought on by battling the fierce current.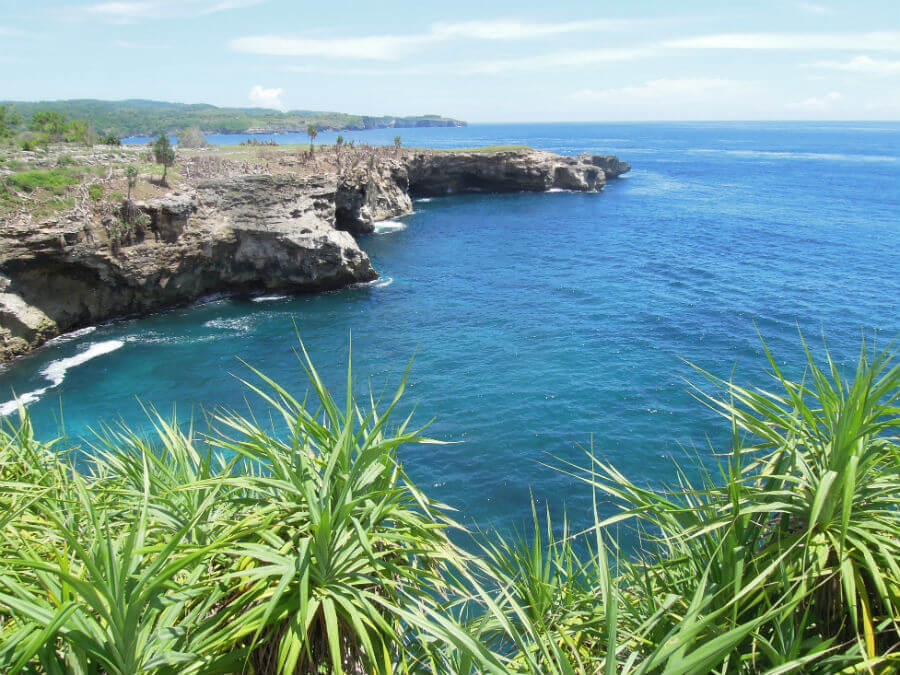 8. Nusa Dua
Best for: White-sand serenity away from the hustle and bustle.
The long strip of sand of Nusa Dua is littered with a series of luxury resorts, making it a favourite of honeymooners and travelling celebrities. The area is actually a tourism complex, complete with an upmarket shopping centre, 18-hole golf course and several acclaimed restaurants.
Insider tip: If you're travelling with a young family, ensure you find a resort that includes an adequate kids' club because some of the resort areas are adults-only.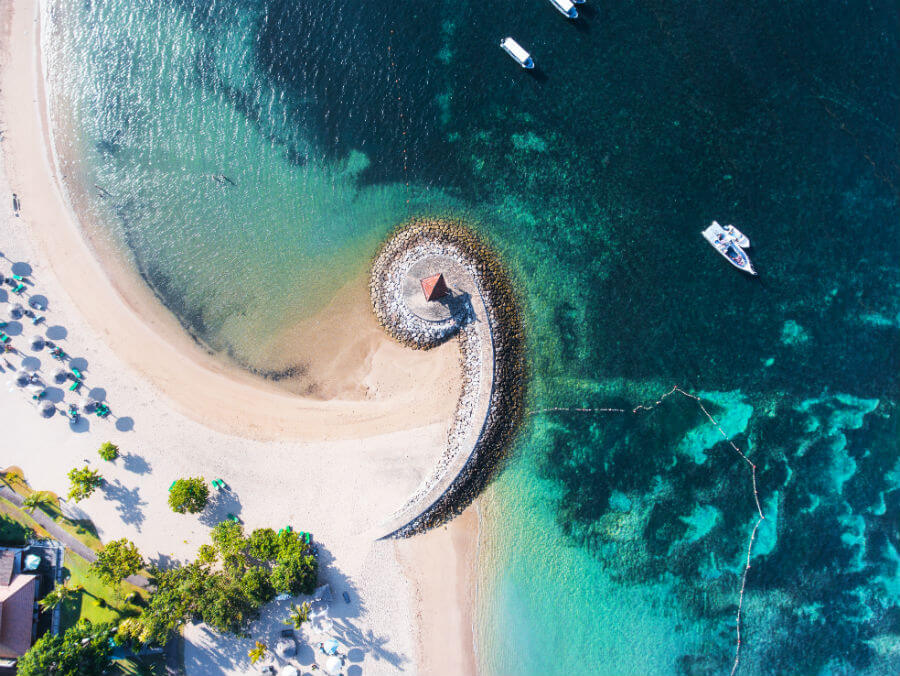 More tips for Bali
As you can see, Bali is rich in incredible coastline and packed full of beautiful beaches. However, the island suffers from a pollution problem, so it's important that travellers do their part in leaving the place better than they found it.
Always take your rubbish with you, reduce the number of plastic bottles you use by choosing larger ones, and respect local wildlife by keeping your distance. With a little bit of effort and insider knowledge, your trip to Bali can be a safe and sustainable tropical adventure.
The content of this article is general and provided for information purposes only. Southern Cross Travel Insurance (SCTI) doesn't guarantee or warrant the accuracy, completeness or currency of any article.
This article may contain hyperlinks to other websites owned or operated by third parties, or references to third party products or services. SCTI isn't responsible for, and makes no recommendation about, the content or accuracy of any third party website, or for the suitability or performance of any product or service. The inclusion of a link in this article doesn't imply that SCTI endorses the website or third party product/service.