Accommodation in Bali
Bali offers a great range of accommodation, from inexpensive hostels to first-class resorts and luxury villas. As with most things in life though, you get what you pay for and if you don't do your research, you may be disappointed.
Popular accommodation choices include the increasing number of yoga and eco retreats, where you can treat your senses and enjoy picturesque locations. Some eco retreats even provide tree house accommodation!
Yoga and health retreats
For those seeking a relaxing and spiritual getaway, yoga retreats are a popular way to experience the picturesque island of Bali. They're an all-encompassing experience focusing on your health and wellbeing, providing healthy food and beautiful environments to relax in. What better way to recharge your senses and take a break from the stresses of daily life?
Different packages cater for different abilities or lengths of stay, but most will include accommodation and meals, plus classes in yoga and meditation. Many will also include massage or spa treatments, or excursions to popular scenic spots. It's not uncommon for yoga retreats to boast eco-friendly accommodation too.
Most retreats are found in Ubud, Bali's spiritual hub, surrounded by rainforest and rice paddies. One of the most popular is the One World Retreat, which offers all of the above and various retreat options of different lengths. If you prefer to be near the beach, there are also retreats in the Seminyak area.
Villas
Villas are a great accommodation option for people travelling with friends or family, offering more privacy and seclusion than a hotel, without excluding service and luxury. Whatever your group size, there are villas available to suit your needs – right up to some boasting 14 bedrooms!
These luxury getaways are located all over the island, so whether you want complete seclusion or close proximity to Bali's nightlife and shops, there are options available. Most villas are staffed with managers and housekeeping, but you can also search for tailored options. You might be after a movie theatre or massage room, or specific staff like chauffeurs or security guards.
When it comes to hiring a villa, it's important to ensure that you use a recognized accommodation provider, such as the Ministry of Villas.
It's also important to check that your villa is easily accessible by road, as some more secluded locations can involve walking a distance to reach them!
Do your research
Bali accommodation is usually of a high standard, as a result of the busy tourism industry that has grown around English-speaking tourists. However, there are a couple of things that can catch people out from time to time. The good news is, all of these things can be avoided by doing your research.
Location is an important factor when it comes to accommodation, but in Bali especially so. Whether you want to stay at the beach, in the bustling city, or even overlooking the rainforest, there are beautiful accommodation spots aplenty.
One of the most important things to consider is whether your accommodation is easily accessible, as Bali's infrastructure isn't up to the same standards you're used to at home. Many 'roads' are very narrow, unsealed, badly pot-holed, or not even roads at all!
Taxi drivers will be all too happy to take you to your accommodation, but keep in mind that any extra time finding locations or driving along difficult roads will lead to a very expensive taxi bill. If you are staying at accommodation that is more challenging to access, pack light so that carrying your bags isn't too strenuous!
Checking websites like TripAdvisor for guest reviews is a great way to ensure you get what you want and that your accommodation is accessible. It's also worth Googling the neighbourhood you'll be staying in to be certain that it's safe. Check that the host has local contact details and is a legitimate accommodation provider. Additionally, always make sure you read the fine print before booking so you don't arrive to any nasty surprises.
Security
Whenever possible, book a room with a safe or secure locker facilities and leave your valuables in the safe whenever you don't need them with you. Some accommodation options in Bali don't have safes, so it pays to check this before you book.
If your personal items are stolen from your accommodation, report it to your accommodation provider and to the local police, security or appropriate authority as soon as possible, and lodge a claim with the accommodation provider first. You should also get a full written report from the appropriate authority that proves the incident took place, as you'll need this document if you need to make a claim with us.
Be picky
When you arrive at your accommodation, ensure you get what you were promised. Carry a copy of your booking with you, as it can help to rectify any discrepancies between what you expect and what you receive.
We've received claims from travellers who have discovered bed bugs at their accommodation in Bali. Along with your usual room check on arrival, it pays to check the mattress for bed bugs before you put your suitcase or any clothing on or near the bed.
It's not uncommon for them to hide in luggage and return home with you, so don't put your gear within jumping distance of the bed! If you do find that your room has bed bugs, talk to your accommodation provider about moving to another room.
Unfortunately, if you turn up to your accommodation and decide it just isn't up to your standards, you won't be covered for alternative accommodation under your policy. So make sure you read online reviews and ensure it has all the facilities you need before you book.
Checking out
When you leave, make sure you check the bill properly for any unexpected extras. If you have hired a house or apartment, make sure you get your deposit back as soon as you have checked out.
Last of all, book your travel insurance as soon as you book your accommodation and flights. That way, if something unexpected happens after your start date of insurance which prevents you from travelling, we can refund any additional alteration costs or unused prepaid costs.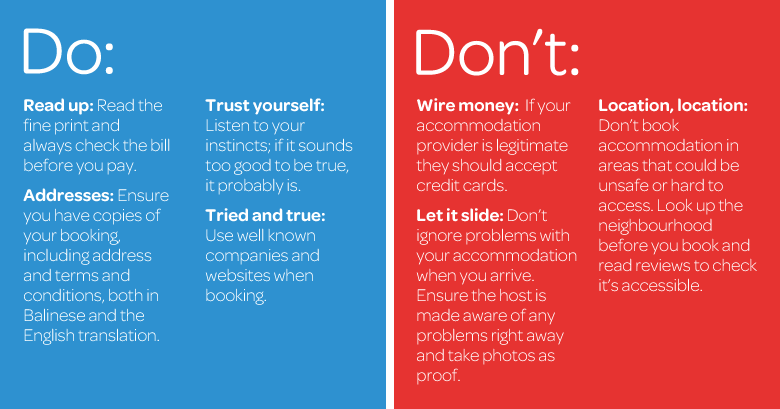 Common claims
False advertising
We see claims from customers who are unpleasantly surprised to find their accommodation doesn't look quite like it does on the website. Whether it's not as pretty or spacious as the pictures make it look, or whether the cleanliness levels are somewhat questionable.
Unfortunately, our policy doesn't cover the failings of the accommodation provider, which is why we always encourage travellers to do lots of research and read the fine print when making any bookings. Google the name of your accommodation and see what experiences others have had, check out travellers' personal photos, and ask the accommodation provider any questions if you are unsure about anything.
Health concerns
It's not ideal when your idyllic hotel room is also home to unexpected guests like bed bugs, mosquitoes or ant infestations.
This scenario can often be avoided with a little online research before you book. Websites such as TripAdvisor and Booking.com are invaluable for finding accommodation that's up to scratch, with good honest reviews from fellow travellers.
Accommodation scams
There's possibly nothing worse than arriving at your accommodation after a long flight and a tiring airport transfer, only to find it doesn't exist. We've heard horror stories about unlucky travellers who have been scammed during the booking process. Read these tips before booking your next hotel to prevent you from falling victim to this type of trick.
The content of this article is general and provided for information purposes only. Southern Cross Travel Insurance (SCTI) doesn't guarantee or warrant the accuracy, completeness or currency of any article.
This article may contain hyperlinks to other websites owned or operated by third parties, or references to third party products or services. SCTI isn't responsible for, and makes no recommendation about, the content or accuracy of any third party website, or for the suitability or performance of any product or service. The inclusion of a link in this article doesn't imply that SCTI endorses the website or third party product/service.